2020 events have changed the outsourcing of software development a lot. More and more companies consider outsourcing opportunities for their IT projects. Among the most active users of outsourcing are business spheres like fintech, digital transformation, telecommunication, and healthcare.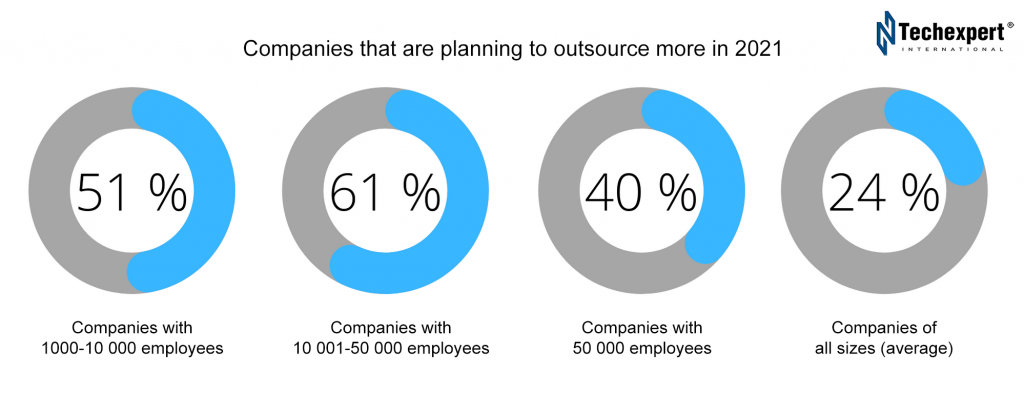 These days among the popular reasons why companies opt for outsourcing are cost-efficiency, lack of in-house specialists, and globalization opportunities. It seems outsourcing is going to play a huge role in the IT industry as it will help cope with new challenges from 2020. Among the main trends in outsourcing:
1. High-demand technical skills
In 2021 and some following years, the companies will look for specialists who know how to work with cybersecurity, cloud technologies, and automation. Besides them, by 2025, Artificial Intelligence and Machine Learning skills will become as crucial as the skills mentioned above.
It comes with no surprise that exactly these skills will be in demand for many companies. More and more clients try to improve the quality of remote work. However, to succeed in it, they should pay attention to various things like cybersecurity, organization of effective IT infrastructure without the need to be present in the office, and automation of routine processes.
2. Specialists from Eastern Europe
It is a well-known fact that IT specialists from Eastern Europe have a much stronger educational background in comparison with other developers. However, previously they were underappreciated. However, the latest report indicates that companies are interested in outsourcing their projects not only in China and India but also in Poland, Romania, and Ukraine. Among their main customers are Western Europe and the United States. Specialists believe that such a tendency will prevail for a long time as companies can get strongly developed software at a lower price.
We closely work with IT developers from Eastern Europe and agree with the thought that they have extensive knowledge in the tech sphere. Moreover, they are hardworking and motivated. We believe this is the best combination of characteristics for It specialists.
3. Long-term outsourcing partnerships
Sometimes finding a truly professional and effective relationship with an outsourcing company can be complicated. Before the pandemic, many companies opted for one-time collaboration with outsourcing vendors to finish their development projects. However, this strategy is effective only if the company already has an IT team to support software after launch. In other cases, it can cost-ineffective and problematic to work on software without professional help. Thus, in 2021, companies will try to avoid working with many outsourcing vendors, and instead, they will seek a strategic relationship in outsourcing. Why can it be beneficial?
The outsourcing team will become more involved in client's processes and, as a result, will know how to develop products effectively;
You do not have to seek part-time support from other companies, as your outsourcing team will continue updating, checking, and supporting your software even after launch.
Here at Techexpert International, we remind our clients about the importance of long-term partnerships. Our IT team is fully capable of supporting various aspects of the post-launch development of software regardless of the client's location.
4. Flexible development and collaboration with vendors
As outsourcing teams become more involved in other aspects of client's work, many companies wish to have flexibility in certain aspects of collaboration. They are seeking outsourcing vendors that can ramp projects up and down based on the company's needs. And as a result, they want to get a service when a vendor can quickly enlarge or shorten project resources, restructure specialists and provide more agile solutions.
Besides that, clients need outsourcing companies to follow their business ethics without any conflicts and miscommunication. Once again, all of these needs come from the idea for quick integration and effective collaboration between two completely different companies.
Learn more about Agile technologies in our article "How Agile works for outsourcing".
5. New technologies
Clients also want to see the implementation of innovation in their projects. They are even ready to invest in the team's education together with outsourcing vendors so that they are ready for challenging tasks. Among these innovations can be all those technologies we have mentioned above.
We support this trend and always try to choose the best technologies for software development, listen to clients' needs and come up with the best options for the projects. Only this way, the software can be competitive.
6. Flexibility in regulations
In 2021, the IT-sphere will face many regulations. That is why all outsourcing vendors should be agile to fit in. Moreover, they should think through all contract clauses and set them according to new processes.
It is also important to remind that from the beginning of January 2021, the United Kingdom is no longer part of the European Union. It means that the UK will have its laws that will concentrate more on avoiding harmful online content and competition improvement. The same goes for other countries like the United States, Australia, Brazil, and India. Specialists believe that this trend will spread to other countries all over the world.