Document management system
Techexpert Company provides services of document workflow automation based on the Microsoft SharePoint platform. The implementation of the document management portal allows to automate the basic workflow with incoming/outgoing and internal documents, simplifies the procedure for documents coordinating, recording and controlling the movement of official correspondence.
Opportunities of the solution
Unified space
Formation of the unified space for storage and processing of company documentation
Optimization
Optimization of current business processes
Standardization
Introduction of standard forms of documents and their processing procedures
Simplification
Simplification of the searching and processing information workflows at all levels
Acceleration
Acceleration of documents processing using routes for their movement within the company
---

About Technology
Document management system is based on Microsoft SharePoint. SharePoint is a powerful platform to automate business process including document workflow.
---
Registration of incoming/outgoing correspondence
Registration and storage of all incoming correspondence in a single electronic repository
Automatic sending of notifications and tasks to responsible employees
Distribution of correspondence for familiarization with interested parties
Assigning tasks according to incoming documents and tracking the status of their implementation
Registration of procurement requests
Directories of materials for procurement (stationery, components, consumables, etc.) and a directory of suppliers
Single window for creating procurement requests
Assigning tasks to the procurement department or responsible employee according to pre-configured routes
Monitoring of task completion status and sending of notification changes
Preparation and negotiation of contracts
Preparation, negotiation and approval of contracts
Route selection of the approval, delegation of tasks, discussions during the negotiations
Tracking of task completion status, deadlines controlling
Sending of notifications at different stages of the process
Systematization and document storage
Contracts storage in a single electronic repository
Searching of the desired contract both by its contents and by the fields of the contract card: counterparty, author, date, type, amount, etc.
Orders and ordinance management
Preparation of orders and ordinance according to templates previously approved by the company
Negotiation of documents on established routes
Assignment of tasks to the executors after the approval of the document with an automatic reminder system and convenient controls
Errands and tasks management
Assignment of tasks within a project or meeting
Quick tracking of status and deadlines
Sending of notifications to interested parties
---
Benefits of the Solution based on Microsoft SharePoint Platform
2
Compatible with various data sources and formats (Word, Excel, Visio, etc.)
3
Automation of the full cycle of work with documents
4
Ergonomic interface and integration with Microsoft Office products
5
Convenient and affordable system for business processes setting
6
Scalability and extensibility due to the phased implementation of system modules
---
---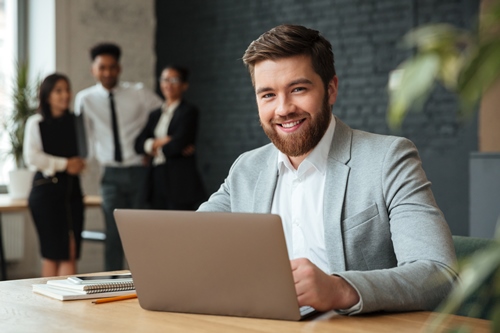 User Training
Training your employees for further independent development of the system:
mini-training shows all the key features of the Microsoft SharePoint functionality
training of independently configuring of workflows
recommendations on using Microsoft SharePoint to solve tasks